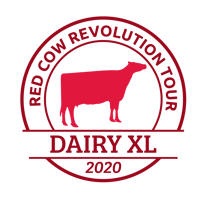 We are thrilled to unveil the most ambitious tour Lely has ever created. The Red Cow Revolution Tour. This will be the single most exclusive tour of the year hosted by Lely North America. With limited spots available, participants will spend three days traveling to seven different robotic dairies throughout Wisconsin. This invaluable opportunity gives prospects a chance to meet with Lely Dairyman from all over, network, and exchange ideas with people who are in the same stage of brainstorming. Did we mention the tour averages 13 robots per farm? Do not miss out on this opportunity! Deadline to RSVP is March 15, 2020.
For more information about the tour CLICK HERE!
Want to stay a little closer to home? We have you covered. On March 11 & 12 we will be touring Lely farms throughout New York. This tour will have something for everyone! We will see new builds, A5 farms, XL dairies and more. This will be a smaller tour allowing you more personalized time for questions with the farmers we visit.
For more information, contact Amos Fisher at 717-826-2679 or RSVP HERE!
Not quite ready to tour? Don't worry, we STILL have you covered!! On March 19th, Lely Center Mid-Atlantic is hosting a Learn with Lely informational session. We will be covering Lely's barn product line, including the Discovery Collector and the Vector. Other topics will include the A5 milking robot, Farm Management Support and more! The meeting will be held at the Hampton Inn Lebanon (1601 E Cumberland St, Lebanon) from 10am-2pm with lunch included. Keep an eye out on our Facebook page or click here to RSVP!